Block & Defeat is the third Challenge Quest. Again, there are no special conditions in this mission, but it does serve as a sort of introduction for the next two challenges which are respectively melee-only and ranged-only.
This is also upgrades the goblins of the previous challenge missions to wolves, so players will have to be quick to react due to the wolves' fast movement speed. Luckily, the wolves take the long way around the map giving players more time.
Enemy
Unit
Type
Attack
Type
HP
ATK
DEF
MR
Attack
Speed
MOV


UP

Notes

Wolf ×8
Melee
Physical
1000
150

20

53
Initial: 12
1300
1 UP
Strategy
Edit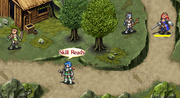 A little bit of a tricky one due to wolves rushing at the start. Place Katie on the spot to the right of the trees in the center between the two right caves (spot E), afterward place another Soldier (Phyllis or Crave) on the spot below the trees leading to the south (spot G). Next wait until you have enough UP to place your strongest Archer on the slot south of the house (spot V) to support the second Soldier. Katie's skill should be ready so use it to then bring in your strongest healer and place them near Katie (spot U) to keep them alive.
Ad blocker interference detected!
Wikia is a free-to-use site that makes money from advertising. We have a modified experience for viewers using ad blockers

Wikia is not accessible if you've made further modifications. Remove the custom ad blocker rule(s) and the page will load as expected.