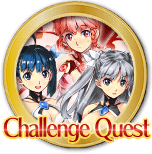 Challenge Quests are missions that require stamina to play. Each one is generally quite short, but they come with special conditions for the player, such as fast enemies or only female units.
Besides the Daily Missions on Tuesday, Wednesday, and Friday, these missions are the primary source of (female) affection items, as well as spirits. Upon receiving 3 stars, players are granted a Ruby rather than the usual Sacred Crystal.
Drop rate derived from this website. Note that the percentages listed here (and subsequently, the Average Affection per Stamina calculation) are technically inaccurate, but only by a negligible margin.
Calculations of Avg. Aff/Stam and Max Aff/Stam use each Affection items' respective +1 extra rates, which are listed in the Gifts page. Max affection per stamina is calculated assuming droprate at 100%, in line with the Story Missions page.
No.
Name
Stamina
Exp
3★Gold
Gift Drops
Spirit Drops
Special Conditions
Avg. Aff/Stam
Max Aff/Stam
Drop Rate
Drop Rate
1
Test of Might
1
15
225
2x Bouquet
Spirit of Iron
1.82
2.6
70%
60%
2
Test of Might 2
1
15
225
2x Bouquet
Spirit of Iron
1.82
2.6
70%
60%
3
Block & Defeat
1
15
225
2x Bouquet
Spirit of Iron
1.82
2.6
70%
60%
4
Sword & Shield
1
15
225
2x Bouquet
Spirit of Iron
Only Melee Units
1.82
2.6
70%
60%
5
Wand & Bow
1
15
225
2x Bouquet
Spirit of Bronze
Only Ranged Units
1.82
2.6
70%
60%
6
Rush Battle
1
15
225
2x Bouquet
2x Spirit of Bronze
Enemy Rush
1.82
2.6
70%
30%
(Extra Bronze Spirit)
7
Perfect Partners
1
15
225
2x Bouquet
Spirit of Bronze
Only 1 Melee and 1 Ranged Unit
1.82
2.6
70%
60%
8
Solitary Battle
1
15
225
Bouquet
Spirit of Bronze
Only 1 Melee Unit
.91
1.3
70%
30%
9
Solitary Battle 2
1
15
225
Bouquet
Spirit of Bronze
Only 1 Ranged Unit
.91
1.3
70%
30%
10
Toxic Swamp
1
15
225
2x Bouquet
Spirit of Silver
Damage Over Time
1.82
2.6
70%
60%
11
Low Cost Battle
1
15
225
2x Bouquet
Spirit of Silver
100 Unit Points With No Regen
1.82
2.6
70%
60%
(Very Easy Map)
12
Rush Battle 2
2
30
450
2x Bouquet, Crystal
Spirit of Silver
Enemy Rush
1.535
2.55
70%, 50%
50%
13
Anti-air Battle
2
30
450
Bouquet, Crystal
Spirit of Silver
Only Flying Enemies
1.33
1.9
70%, 70%
50%
14
Phalanx
2
30
450
2x Bouquet, Crystal
Spirit of Silver
Only Heavy Armor Enemies
1.66
2.55
70%, 60%
50%
15
Hi-speed Battle
2
30
450
2x Bouquet, Crystal
Spirit of Silver
Faster Enemies
1.66
2.55
70%, 60%
50%
16
Toxic Swamp 2
2
30
450
2x Bouquet, Crystal
Spirit of Silver
Damage Over Time
1.66
2.55
70%, 60%
50%
17
Mens Battle
2
30
450
2x Bouquet, Crystal
Spirit of Gold
Only Male Units
1.66
2.55
70%, 60%
50%
18
Womens Battle
2
30
450
2x Bouquet, Crystal
Spirit of Gold
Only Female Units
1.66
2.55
70%, 60%
50%
19
Backwater Camp
2
30
450
2x Bouquet, Crystal
Spirit of Gold
No Healers
1.66
2.55
70%, 60%
50%
20
A Gigantic Enemy
2
30
450
2x Bouquet, Crystal
Spirit of Gold
Huge Enemies
1.66
2.55
70%, 60%
50%
(Very Easy Map)
21
Low Cost Battle 2
3
45
675
Bouquet, Crystal, Ruby
Spirit of Gold
100 Unit Points With No Regen
1.27
2.43
70%, 60%, 40%
50%
22
Solitary Battle 3
3
45
675
Bouquet, Crystal, Ruby
Spirit of Gold
Only 1 Melee Unit
1.27
2.43
70%, 60%, 40%
50%
23
Solitary Battle 4
3
45
675
Bouquet, Crystal, Ruby
Spirit of Gold
Only 1 Ranged Unit
1.27
2.43
70%, 60%, 40%
50%
24
Rush Battle 3
3
45
675
Bouquet, Crystal, Ruby
Spirit of Gold
Enemy Rush
1.35
2.43
70%, 70%, 40%
50%
25
Hi-speed Battle 2
3
45
675
Bouquet, Crystal, Ruby
Spirit of Gold
Faster Enemies
1.35
2.43
70%, 70%, 40%
50%
26
Toxic Swamp 3
3
45
675
Bouquet, Crystal, Ruby
Spirit of Gold
Damage Over Time
1.35
2.43
70%, 70%, 40%
50%
27
Shooting Battle
3
45
675
Bouquet, Crystal, Ruby
Spirit of Gold
Only Ranged Units
1.35
2.43
70%, 70%, 40%
50%
28
Backwater Camp 2
3
45
675
Bouquet, Crystal, Ruby
Spirit of Gold, Spirit of Platinum
No Healers
1.35
2.43
70%, 70%, 40%
30%, 20%
29
Phalanx 2
3
45
675
Bouquet, Crystal, 2x Ruby
Spirit of Gold, Spirit of Platinum
Only Heavy Armor Enemies
1.82
3.6
70%, 70%, 40%
30%, 20%
(Extra Ruby)
30
Dwarf Battle
3
45
675
Bouquet, Crystal, Ruby
Spirit of Gold, Spirit of Platinum
Tiny Units
1.35
2.43
70%, 70%, 40%
30%, 20%
31
War of Magic
4
60
900
Crystal, Ruby, Diamond
Spirit of Gold, Spirit of Platinum
Only Mages and Witches
1
2.63
50%, 40%, 30%
30%, 20%
32
Mens Battle 2
4
60
900
Crystal, Ruby, Diamond
Spirit of Gold, Spirit of Platinum
Only Male Units
1
2.63
50%, 40%, 30%
30%, 20%
33
Womens Battle 2
4
60
900
Crystal, Ruby, Diamond
Spirit of Gold, Spirit of Platinum
Only Female Units
1
2.63
50%, 40%, 30%
30%, 20%
34
Rush Battle 4
4
60
900
Crystal, Ruby, Diamond
Spirit of Gold, Spirit of Black
Enemy Rush
1
2.63
50%, 40%, 30%
30%, 20%
35
Sword & Shield 2
4
60
900
Crystal, Ruby, Diamond
Spirit of Gold, Spirit of Black
Only Melee Units
1
2.63
50%, 40%, 30%
30%, 20%
36
Wand & Bow 2
4
60
900
Crystal, Ruby, Diamond
Spirit of Gold, Spirit of Black
Only Ranged Units
1
2.63
50%, 40%, 30%
30%, 20%
37
Low Cost Battle 3
4
60
900
Crystal, Ruby, Diamond
Spirit of Gold, Spirit of Black
100 Unit Points With No Regen
1
2.63
50%, 40%, 30%
30%, 20%
38
A Gigantic Enemy 2
4
60
900
Crystal, Ruby, Diamond
Spirit of Gold, Spirit of Black
Huge Enemies
1
2.63
50%, 40%, 30%
30%, 20%
39
Dwarf Battle 2
4
60
900
Crystal, Ruby, Diamond
Spirit of Gold, Spirit of Black
Tiny Units
1
2.63
50%, 40%, 30%
30%, 20%
40
Dwarfs & Giants
4
60
900
Crystal, Ruby, Diamond
Spirit of Gold, Spirit of Black
Tiny Units, Huge Enemies
1.2
2.63
50%, 50%, 40%
30%, 30%
(Better %s)
41
Backwater Camp 3
5
80
1125
Crystal, Ruby, Diamond
Spirit of Platinum, Spirit of Black
No Healers
0.8
2.63
50%, 40%, 30%
30%, 20%
42
Mens Battle 3
5
80
1125
Crystal, Ruby, Diamond
Spirit of Platinum, Spirit of Black
Only Male Units
0.92
2.63
60%, 50%, 30%
30%, 20%
43
Womens Battle 3
5
80
1125
Crystal, Ruby, Diamond
Spirit of Platinum, Spirit of Black
Only Female Units
0.92
2.63
60%, 50%, 30%
30%, 20%
44
Hi-speed Battle 3
5
80
1125
Crystal, Ruby, Diamond
Spirit of Platinum, Spirit of Black
Faster Enemies
0.92
2.63
60%, 50%, 30%
30%, 20%
45
Sword & Shield 3
5
80
1125
Crystal, Ruby, Diamond
Spirit of Platinum, Spirit of Black
All Units Allowed Despite Name
0.92
2.63
60%, 50%, 30%
30%, 20%
46
Noxious Fog
6
100
1350
Crystal, Ruby, Diamond
Spirit of Platinum, Spirit of Black
Damage Over Time
0.83
2.63
60%, 60%, 30%
30%, 30%
47
Noxious Fog 2
6
100
1350
Crystal, Ruby, Diamond
Spirit of Platinum, Spirit of Black
Damage Over Time
0.83
2.63
60%, 60%, 30%
30%, 30%
48
Phalanx 3
6
100
1350
Crystal, Ruby, Diamond
Spirit of Platinum, Spirit of Black
Only Heavy Armor Enemies
0.83
2.63
60%, 60%, 30%
30%, 30%
49
Dwarfs & Giants 2
6
100
1350
Crystal, Ruby, Diamond
Spirit of Platinum, Spirit of Black
Tiny Units, Huge Enemies
0.83
2.63
60%, 60%, 30%
30%, 30%
50
Boss Rush
7
100
1575
Crystal, Ruby, Diamond
Spirit of Platinum, Spirit of Black
Multiple Bosses
0.71
2.63
60%, 60%, 30%
30%, 30%