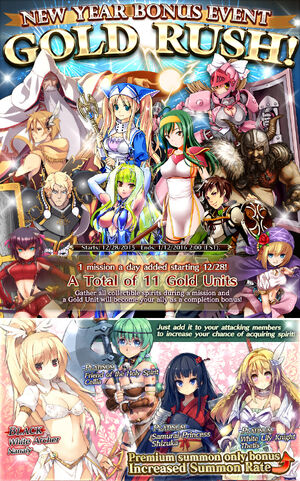 Gold Rush 1 (ゴールドラッシュ) is a gold rush type Urgent Mission running from December 28, 2015 to January 12, 2016.
Gold Rushes are similar to Story Missions in that they have 3 drops and a completion bonus. However, the completion bonuses are all of gold rarity, as the name of the event implies.
By its nature, Gold Rushes have low drop rates, and so repeated runs will be necessary to receive rewards.
A new mission will be made available every day.
Missions
Edit
Map 1: Only High Archers drop fairies.
Map 2: Only Large Heavy Infantry drops fairies.
Map 3: Only Healers drop fairies.
Map 4: Only High Valkyries drop fairies.
Map 5: Only High Archers drop fairies.
Map 6: White Baphomet - Spirit of Copper || Lich - Spirit of Silver || Dragon King - Spirit of Gold.
Map 7: Only Fast Thieves drop fairies (1st: Spirit of Iron || 17th: Spirit of Silver || 31th: Spirit of Gold).
Map 8: Only Red Bandit Bosses drop fairies.
Map 9: Only Dragons drop fairies.
Map 10: Only White Mages drop fairies.
Map 11: Only Fast Thieves that show as last 3 enemies drop fairies.
Special Enemies
Edit
Name
Type
Damage
Est. HP
Est. ATK
Est. DEF
Remarks
High Archer

Ranged
Physical

1560 (Hunter's Forest)

1440 (Armored March, Rain of Arrows)

150
100
Single target, long range
Large Heavy Infantry

Melee
Physical
3600
600
300
Larger and 150% stronger than other heavy infantry on that map
Lich

Ranged
Magical

12000 (Death and the Holy Women)

6000 (Challenge of Powerful Enemies)

250
300
Single-target, long range

Attacks in reverse placement order

Valkyrie

Melee
Physical
1250
300
200
Moves quickly

Switches lanes frequently

High Valkyrie

Melee
Physical
1800
360
100
Moves quickly

Switches lanes frequently

Red Dragon Mage
Ranged
Magical
6000
500
400
Fireball with huge AoE
Dragon King
Melee
Physical
5600
420
500
Moves slowly
White Mage
Range
Magical
Video Guides
Edit
External Links
Edit
Ad blocker interference detected!
Wikia is a free-to-use site that makes money from advertising. We have a modified experience for viewers using ad blockers

Wikia is not accessible if you've made further modifications. Remove the custom ad blocker rule(s) and the page will load as expected.