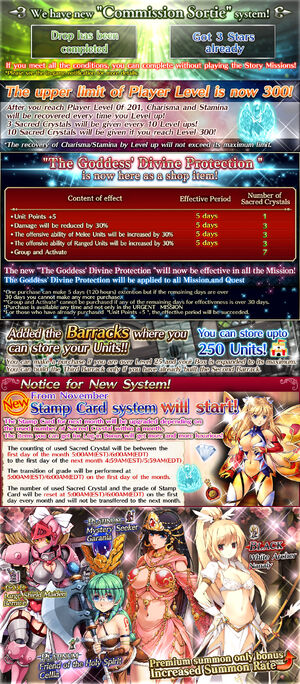 A stamp is added to the player's
Stamp Card
and a corresponding reward received for every day the player logs in to the game. Stamps are always received in order, so missing a daily stamp will not cause the player to lose a particular day's reward, but rather they will miss out on rewards starting with the final item on the card. Players receive a new stamp card at the beginning of each month.
Stamp cards can be one of five tier levels, with higher tiers offering better daily login rewards. The tier is determined solely by the number of Sacred Crystals (SC) the player spent the previous month (starting 6 AM EST). How the SC were used doesn't matter, whether spent in the Shop, Shrine, or refilling Charisma/Stamina.  
Each month's card is independent from the others. Stamp cards reset to the "Normal" tier every new month unless SC were spent to reach a different tier.  
SC spending can be checked in the "Stamp Card" menu.  
Normal (Use 0-49 SC)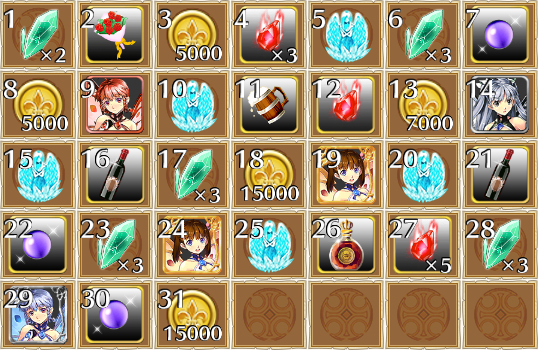 Special (Use 50-99 SC)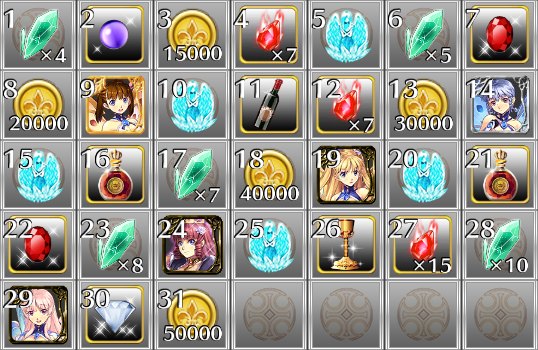 Deluxe (Use 100-149 SC)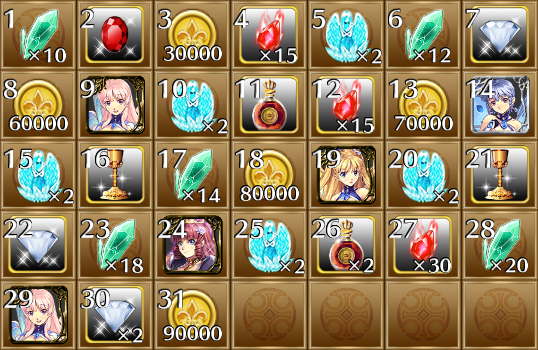 Legend (Use 150-249 SC)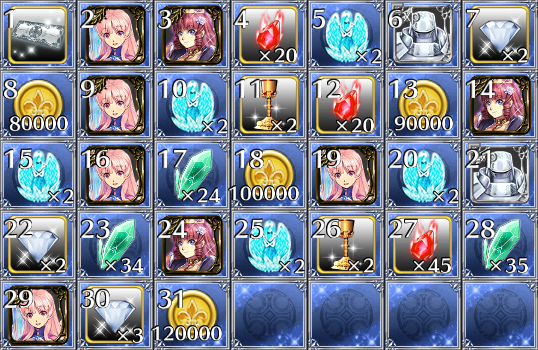 S Legend (Use 250+ SC)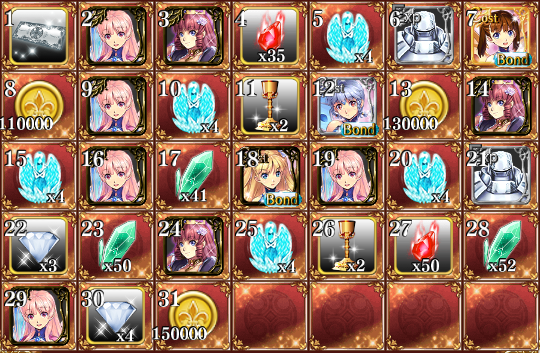 Item Type
Stamp Card Tier
Normal
Special
Deluxe
Legend
S Legend
Gold (30-Day Month)
32,000
105,000
240,000
270,000
240,000
Gold (31-Day Month)
47,000
155,000
330,000
390,000
390,000
Sacred Crystals
5
5
10
10
20
Crystal Shards
14
34
74
93
143
Demon Crystals
9
29
60
85
85
Flower
1
Crystal
3
1
Ruby
2
1
Diamond
1
4
7
7
Total Affection
7-11
12-16
19-24
28-35
28-35
Beer
1
Table Wine
2
1
Choice Sake
1
2
3
Millennium Wine
1
2
4
4
Total Trust
8-12
12-16
17-22
16-20
16-20
Spirit of Bronze
1
Spirit of Silver
1
Spirit of Gold
2
1
Spirit of Platinum
1
1
1
Spirit of Black
1
1
Spirit of Rainbow
1
2
5
5
Spirit Queen
1
1
3
3
Platinum Armor
2
2
Bonded Nina
1
Bonded Celia
1
Bonded Florika
1
Legend Summon Ticket
1
1
Legend Summon Ticket
Edit

This ticket, only available from the last 2 tiers of the Stamp Card, grants the player 1 guaranteed Platinum or above unit from the
Shrine
. The ticket is automatically consumed upon retrieval from the player's Present Box. Each unit has the same chance by rarity, and the ticket is unaffected by the Shrine's Chance-Ups.
Bashira and Cypria, despite being Shrine units, are excluded.
Ad blocker interference detected!
Wikia is a free-to-use site that makes money from advertising. We have a modified experience for viewers using ad blockers

Wikia is not accessible if you've made further modifications. Remove the custom ad blocker rule(s) and the page will load as expected.