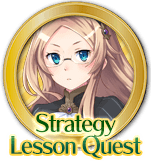 The Strategy Lesson Quest series is to provide a new player with general information about basic unit types and strategy, with each mission focusing on a new aspect. There are a total of 7 missions in this quest line. Each mission requires 1 stamina point to attempt, and when the player has successfully completed the final mission with 3 stars they will receive Tactics Instructor Katie. These missions are unique in the fact that you are given premade teams to attempt rather than using your units.

Missions
Edit
Video Guides
Edit
See also
Edit
Ad blocker interference detected!
Wikia is a free-to-use site that makes money from advertising. We have a modified experience for viewers using ad blockers

Wikia is not accessible if you've made further modifications. Remove the custom ad blocker rule(s) and the page will load as expected.