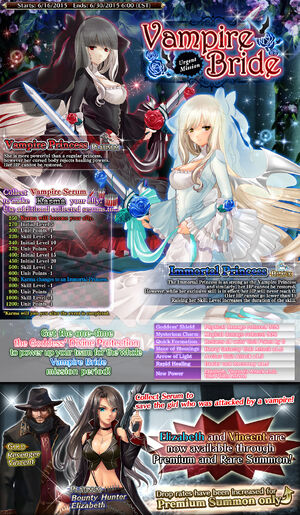 Vampire Bride (吸血鬼の花嫁) is a collection based urgent mission that originally ran from 16-30 June 2015.
The plot revolves around Karma, who has been turned into a vampire; the Prince vows to cure her and enlists Vincent to advise him on his quest.
The event features high health vampires that may paralyze units, as well as high defence werewolves. The high number of serums required makes it notably difficult for players without strong teams to acquire Karma.
This event received a revival on:
Original
Edit
Players must collect serum drops from the available maps. The total number of serums determines the reward.
Serum
Reward
0
-
250
Vampire Princess Karma
270
Level 5
300
-1 cost (-1)
320
+1 skill (2/5)
340
Level 10
370
-1 cost (-2)
400
Level 15
450
Level 20
500
+1 skill (3/5)
600
-1 cost (-3)
700
Immortal Princess Karma
800
+1 skill (4/5)
900
-1 cost (-4)
1000
+1 skill (5/5)
1200
-1 cost (-5)
While Karma is available as both a Platinum rarity Vampire Princess and a Black rarity Immortal Princess, only one version will be awarded at the conclusion of the event based on the amount of serum collected (Platinum if 250-699, Black if 700+).
Sacred crystal cost
Edit
Prince
Rank
SC
Min
Avg
Max
<101
10
19
35
101
8
17
33
120
8
16
30
140
8
15
28
160
7
14
26
180
7
13
24
200
6
12
23
While it is, with some luck, possible to acquire Immortal Princess Karma without spending any sacred crystals (SC) to restore stamina; it is not possible to fully cost reduce her without doing so. As her temporary immortality is considered to be a game-breaking skill, it is generally advised to to "perfect" her if possible.
The table calculates the amount of SC required if the player spends their stamina solely on the final map, The Dweller in the Darkness X, for the duration of the event (i.e. no dailies, challenges, or anything else that would require stamina). As the player's maximum stamina increases with their rank, the estimated amount of SC required decreases.
Although this may seem daunting, the player will acquire 8SC if they 3★ all of the maps. It is also likely that 1 or 2SC will be gained from the login stamp card over the course of the event. If nothing else, these should be enough to guarantee Immortal Princess Karma.
Keep in mind that maps do not require 3 stars to collect the serum; although it certainly helps, the maps give the player a lot of health. Additionally, the second last map, Vampire, is also efficient for farming, albeit more luck based.
During revivals, the normal item farm rewards are no longer available. Instead, players can gather Moment Crystals (MC) that can be exchanged for event units in the trading post. Moment Crystals drop from event maps instead of serum (although in different quantities).
Missions
Edit
For the revival event, Elaine was replaced by Misha on the Vampire mission. (Or to be more accurate Misha was supposed to drop in the first run of this event but was changed to Elaine because Misha wasn't implemented back then.)
Drop rates
Edit
Translated from JP wiki.
Maps 1, 3, and 6 were not included with the original chart, the assumption being that they were terribly inefficient.
Numbers are not official, so take with a grain of salt.
Drop chart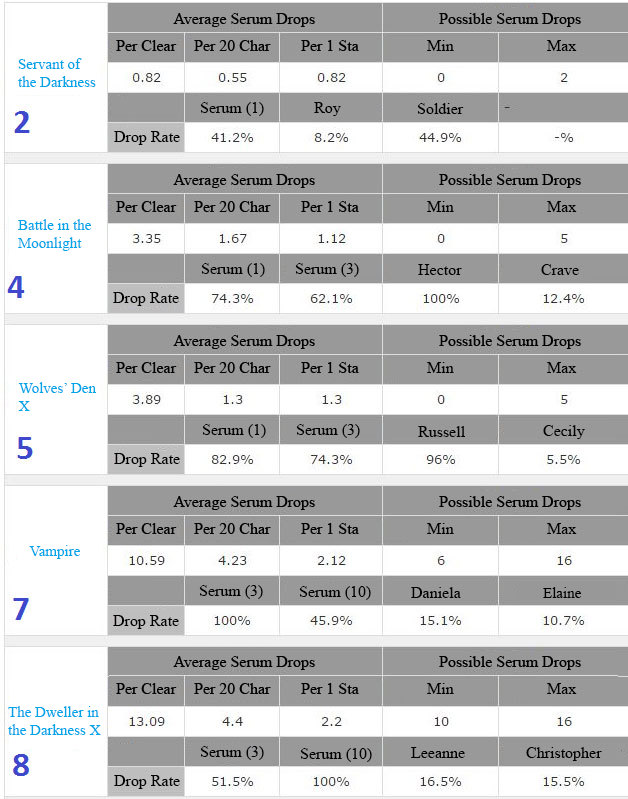 Enemy
Unit
Type
Attack
Type
HP
ATK
DEF
MR
Attack
Speed
MOV


UP

Notes

Lesser Vampire
Melee
Undead
Physical
7000
300

0

151
Initial: 20
400
1 UP
Paralyzes target after 6 hits. Paralyzed units cannot attack, cannot use skills, and have halved defense.

Greater Vampire
Melee
Undead
Physical
20000
400

0

76
Initial: 10
400
2 UP
Paralyzes target after 6 hits. Paralyzed units cannot attack, cannot use skills, and have halved defense.

Werewolf
Melee
Physical
2000
550

800

116
Initial: 25
1600
1 UP

Silverwolf
Melee
Physical
2400
650

2000

106
Initial: 25
1600
1 UP
Dialogue
Edit
Revenger
Anna: Here. This village has been facing attacks from monsters for the past few days.
Anna: Some of the monsters are apparently unfamiliar to them, as well.
(in the middle of battle)
Anna: Could this be the end of it? How anticlimactic.
Vincent: Don't let your guard down... They're getting close!
Anna: Who are you? Who are "they"?
(after lesser vampires show up)
Vincent: Be careful. There's a paralytic poison in their fangs. If they hit you, your body will go numb and you'll be unable to move.
(after the battle)
Anna: It looks like we drove them off, somehow. What are these strange monsters?
Vincent: They are "Vampires". These, however, are the lowest of Vampires, beings known as "Lesser Vampires".
Vincent: They are servants to real vampires, and resemble poor copies of them... Regardless, don't let your guard down.
Vincent: They're tough and poisonous, so it's dangerous to get close to them.
Anna: You seem to know a lot. Do you happen to know why vampires have shown up here?
Vincent: They are coming for... the bride. There is apparently a woman in this village whose blood was drained by a vampire.
Karma: ...
Anna: Who are you?
Karma: My name is Karma. My homeland was destroyed by monsters, and I am now a wanderer.
Karma: Just as he said, a few days ago I was attacked by a dark monster who drank my blood.
Vincent: The elder vampires increase their numbers by drinking blood. I'm sorry, but it's too late for you.
Vincent: You'll be one of them soon. At the most in two weeks, if not in a few days.
Vincent: I'll put you down before you become a monster...
Vincent's introduction
Oh, i still haven't introduced myself.
My name is Vincent.
I'm a drifter, as I'm sure you can see.
So you're the descendant of that legendary monster-battling here, eh?
By the way, why did you stop me before?
Won't that girl turn into a vampire and begin attacking the innocent indiscriminately, soon?
Her first victim will be someone she is close to.
Killing her before that happens will be merciful.
Hm, you don't want there to be any victims?
That sounds a bit too convenient...
You really intend to save her!? Huh... Well...
Assuming there is a way and assuming you can get Moment Crystal from vampires...
You might be able to save her.
But don't misunderstand me.
This won't restore her humanity.
It will only increase her resistance to vampires and might give her the ability to resist the commands of the vampire who did this to her.
Anyway, it's not a simple matter of collecting one or two Moment Crystals.
The amount needed depends of the strength of the vampire that attacked her.
So you still intend to do it?
Hah, there is such a thing as being too nice.
We'll see if you're truly prepared.
Now don't worry.
If you fail, I'll take the responsibility to finish her off.
Servant of the Darkness
Vincent: I'll ask you one more time. That vampire woman... Karma... You intend to save her?
Vincent: There is only one way to prevent her from becoming a servant to vampires.
Vincent: You must collect blood serum from vampires, and then give her as much as possible...
Vincent: So you intend to risk your life by collecting serum for a woman you just met. What a ridiculously good-natured group...
Vincent: (If only I had met you earlier. Perhaps then I would still have my family...)
Attack of the Wolves
Vincent: The ever-nearing howling of the wolves gives me a bad feeling.
(after killing first werewolves)
Vincent: Werewolves. Normal weapons have little effect on them. Only magic or magical weapons are effective.
Battle in the Moonlight
Anna: Oh, Goddess, please lend me your strength.
Vincent: Praying is pointless. Carve out your own way.
Wolves' Den X
Vincent: It looks like this is definitely the wolves' den. I've got nothing but bad feelings about this.
Threat of the Silverwolves
Vincent: It seems the pack of wolves is getting closer. And there seem to be plenty of them...
Vincent: The larger the pack, the stronger the leader... Keep your guard up.
Vampire
Soldier: A squad of Lesser Vampires is heading this way.
Vincent: He's finally arrived! Be careful. That's the vampire who attacked her!
(Clear)
Vincent: Don't relax. They're immortal. They're going to get right back up. We have no time to dawdle. Follow him!
The Dweller in the Darkness X
Vincent: Is this the vampire's hideout?
(Clear)
Anna: Ridiculously powerful monsters have appeared... Following any further would be too dangerous.
Vincent: What!?! I'll go by myself, then. See you later...
Anna: Wait! You'll die if you go on like this!
Anna: If you really want to destroy all of the vampires, then there is still another way.
Vincent: Don't act like you understand...
Vincent: I'm sorry. I have no right to criticize you when all I do is mourn what I've lost...
Vincent: Fine. I'll do as you say.
Video guides
Edit
External links
Edit
Reward Screen
Edit
Ad blocker interference detected!
Wikia is a free-to-use site that makes money from advertising. We have a modified experience for viewers using ad blockers

Wikia is not accessible if you've made further modifications. Remove the custom ad blocker rule(s) and the page will load as expected.